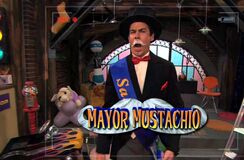 Mayor Mustachio
is the "fake mayor of Seattle" who presents Sam with the
Fat Cake World Headquarters
tour voucher in the episode
iToe Fat Cakes
. He bears a strong resemblance to the
Monopoly
board game's mascot
Rich Uncle Pennybags
and was played by
Spencer
.
To congratulate Sam for going ten whole days without getting into trouble, the iCarly gang opt to reward her with a trip to the Fat Cake World Headquarters in Canada. Unable to get the real Mayor of Seattle to present the prize to Sam on the iCarly webcast, Spencer dresses up as Mayor Mustachio and hands the Fat Cake factory "golden ticket" to Sam instead.
Upon receiving the coupon, Sam screams disbelievingly, "Shut up!" and Mayor Mustachio responds, "We shall not shut up!" He then complains that his "mayor trousers are too tight in the crotch" and proceeds to adjust his pants live on the webcast while Sam, Freddie, and Carly look on in bemusement.
"Finish your rapping!"
This article is a stub. You can help the iCarly Wiki By expanding it.
Ad blocker interference detected!
Wikia is a free-to-use site that makes money from advertising. We have a modified experience for viewers using ad blockers

Wikia is not accessible if you've made further modifications. Remove the custom ad blocker rule(s) and the page will load as expected.