Mitch is Carly's guardian angel who appeared in the episode iChristmas. When Carly wishes that Spencer was born normal, he makes her wish come true, surprising Carly, and eventually causing her to realize that she really wants Spencer to be just the way he is.
When Mitch earned his wings; Carly thought that he would earn the wings that make you fly, yet, Mitch was actually talking about chicken wings.
Trivia
Mitch is a parody of Clarence Odbody, the guardian angel in the classic Christmas movie, It's a Wonderful Life. The movie shows the angel trying to get his wings, while in this episode, it shows him trying to receive chicken wings.
Mitch appears in a video that features Nevel trying to give iCarly.com a virus and tying up Mitch to prevent him from stopping him. Unfortunately for Nevel, Mitch finds a way to switch situations.
Carly mentions in a blog that Mitch added himself to her SplashFace friend list. [1]
It appears that Mitch loves chicken wings.
Mitch is 3'9.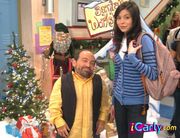 References
"Finish your rapping!"
This article is a stub. You can help the iCarly Wiki By expanding it.
Ad blocker interference detected!
Wikia is a free-to-use site that makes money from advertising. We have a modified experience for viewers using ad blockers

Wikia is not accessible if you've made further modifications. Remove the custom ad blocker rule(s) and the page will load as expected.