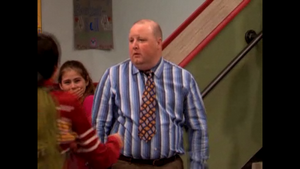 Mr. Buttburn is a substitute teacher who appeared in iWant a World Record. Kids made fun of his name, as it refers to his posterior being burnt. He seemed very annoyed by this. "Poor Mr. Buttburn," Carly said. As Mr. Buttburn was walking up the stairs, kids were still laughing at his name.
Ad blocker interference detected!
Wikia is a free-to-use site that makes money from advertising. We have a modified experience for viewers using ad blockers

Wikia is not accessible if you've made further modifications. Remove the custom ad blocker rule(s) and the page will load as expected.