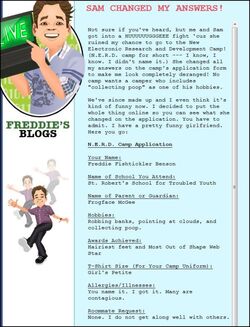 New Electronics Research and Development Camp, also known as N.E.R.D - Camp is a camp that Freddie wanted to go to in iCan't Take It. He knew it would look good on his college applications in the future.
He was denied access because Sam changed his answers. According to Sam the reason why she changed it was because she was angry with Freddie for not telling her the "time" four months prior to the events of iCan't Take It.
Trivia
Freddie's edited application can be viewed here on Freddie's blog, where he says he's got a pretty funny girlfriend, they've since made up, and they find the edited answers laughable.