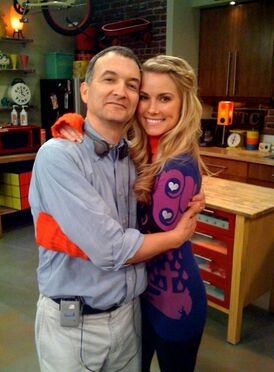 Nicole Taylor (born August 10, 1983 in St. Joseph, Missouri) was raised in Austin, TX, and now lives in Los Angeles, CA where she is an actress and model.
She had a minor role in the episode iFind Lewbert's Lost Love as Gabriella (Mrs. Benson's Building Watch Patrol partner).
Nicole has also made guest appearances on several other television series, such as Entourage, Friday Night Lights, CSI:NY, CSI:Miami, How I Met Your Mother, and Wire in the Blood.
In addition she has appeared in many national campaigns for brands such as: Proactiv, Skechers, Converse, IZOD, & Corona. She's also featured in music videos for: We The Kings "Heaven Can Wait", Deirks Bentley "Lot of Leavin' Left to Do"...& Pat Green "BabyDoll".
External Links
"Finish your rapping!"
This article is a stub. You can help the iCarly Wiki By expanding it.