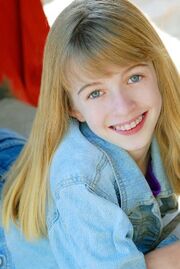 Olivia Hosken is the actress who plays the eight-year-old version of Sam Puckett for the flashback of the memory Carly and Sam had in the season one episode, iDon't Want to Fight.
This scene lasts about two or three minutes, and we can see that a fight between Carly and Sam over a tuna fish sandwich. That was the start of their friendship. Olivia is now 16 years old and living in California.
Gallery
External links
Ad blocker interference detected!
Wikia is a free-to-use site that makes money from advertising. We have a modified experience for viewers using ad blockers

Wikia is not accessible if you've made further modifications. Remove the custom ad blocker rule(s) and the page will load as expected.