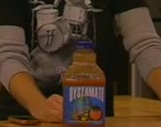 Oystomato juice is a mixture of tomato juice and oyster juice. It is a parody of Clamato, which is a mixture of tomato juice and clam broth.
It appears in the episode iSpace Out when Spencer tries to drink a glass of Oystomato to see what it tastes like, despite the fact that, according to Carly, he hates both oysters and tomatoes (which Spencer forgot to take into consideration).
Oyster/Tomato
"Finish your rapping!"
This article is a stub. You can help the iCarly Wiki By expanding it.
Ad blocker interference detected!
Wikia is a free-to-use site that makes money from advertising. We have a modified experience for viewers using ad blockers

Wikia is not accessible if you've made further modifications. Remove the custom ad blocker rule(s) and the page will load as expected.