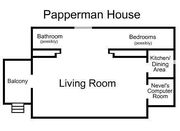 The Papperman House is where Nevel and his mother lives. The most viewed part of the house was Nevel's computer room (where he's doing his Nevelocity show) and also their living room.
It first appeared in
iNevel
episode when Nevel invited
Carly
(with
Spencer
) for an interview about her web show but instead of interviewing her, Nevel showed Carly some weird stuff and he suddenly kissed her on the cheek, which Carly feel shocked and she smears tapenade on Nevel's face. It reappeared again in
iRue 
the Day
episode when Carly,
Sam
and
Freddie
sneaked in Nevel's house to crash his website (because Nevel hacked
iCarly
). In the episodes
iGive Away a Car
,
iWant My Website Back
and
iFight Shelby Marx
, the only part of the house that seen was Nevel's computer room.
The only known residents in this house are Nevel and her mother only, (Nevel's grandmother always visiting here only in holidays).
Trivia
Ad blocker interference detected!
Wikia is a free-to-use site that makes money from advertising. We have a modified experience for viewers using ad blockers

Wikia is not accessible if you've made further modifications. Remove the custom ad blocker rule(s) and the page will load as expected.