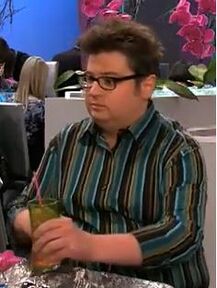 Paul has been seen once in iDate Sam & Freddie. He was seen flirting with Carly at Pini's. He is a DJ and says he used to be a photographer. It's possible that he also enjoys sailing because he asked Carly if she had ever been sailing. Carly almost called the cops on him because he wouldn't leave her alone.
The same guy also plays Woody in IPear Store.
"Finish your rapping!"
This article is a stub. You can help the iCarly Wiki By expanding it.