Petrosini's
is a fancy restaurant mentioned in
iGot A Hot Room
.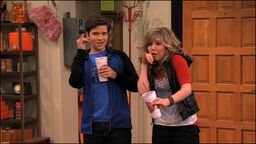 Carly, Sam, Freddie, and Spencer had planned to go there for Carly's birthday. They never did however, because just as they were about to leave, Carly's room caught on fire. (The fire was started by a gummy bear lamp that Spencer had put in her room as a birthday present).
The restaurant is probably named after Jana Petrosini, the web producer for iCarly.
Ad blocker interference detected!
Wikia is a free-to-use site that makes money from advertising. We have a modified experience for viewers using ad blockers

Wikia is not accessible if you've made further modifications. Remove the custom ad blocker rule(s) and the page will load as expected.