The Phaser is a Galaxy Wars toy Gibby bought in iBattle Chip for $700. He became very protective of it and got depressed when Sam accidently broke it during a fight at the Groovie Smoothie, even though Gibby gave Carly the responsibility to look after it. Freddie tried to fix it, but turned it into a heat gun that was powerful enough to melt a root beer bottle, a bunch of bananas, and the glass of the Shay Apartment's back door twice. Gibby later set it to "overload", causing it to explode.
"Finish your rapping!"
This article is a stub. You can help the iCarly Wiki By expanding it.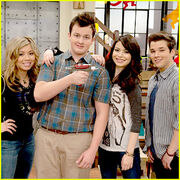 Ad blocker interference detected!
Wikia is a free-to-use site that makes money from advertising. We have a modified experience for viewers using ad blockers

Wikia is not accessible if you've made further modifications. Remove the custom ad blocker rule(s) and the page will load as expected.