"Finish your rapping!"
This article is a stub. You can help the iCarly Wiki By expanding it.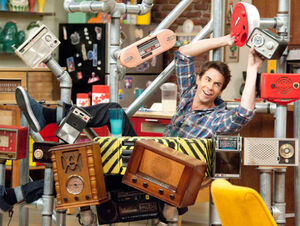 Potatio Radio is a sculpture created by Spencer in iParty with Victorious.
It consists of diverse radios held together by clamps. Spencer sat among these radios for hours, holding them together so they would stick, but because he used the wrong solution to glue them together, it was all in vain and the sculpture collapsed when he left his position. (Spencer was left with aching muscles.)
It was called Potatio Radio because Spencer loves radios and he was squeezing a potato when he thought of it.
It is unknown if this sculpture was ever completed.