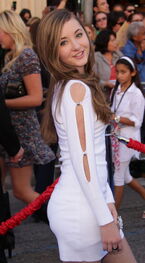 Rachel Giana Fox (born July 23, 1996) is an American teen actress and singer best known for playing Kayla Huntington on the ABC television series Desperate Housewives.She also has a minor role on iCarly as Amber Tate in the episode iCarly Saves TV.
Fox has also appeared on Alias, That's So Raven, Adventures in Odyssey and Hannah Montana. She voiced characters in the vide ogames Ant Bully and Thrillville.
Fox is also a singer, she is producing her own album.She recently made a music video for her song iShop, singing about her favourite thing: shopping.[citation needed] She also produced a French version of the song after having enjoyed an experience in Paris.
External Links
Rachel G. Fox at