Random Debates is an iCarly sketch seen in various random episodes, as well as Nickelodeon's official iCarly website. Among the debates in these sketches was one in the opening segment of iGo to Japan, where Carly and Sam debated on the issue of legs vs. pudding. Variations include 3-Way Random Debates, which are done behind a joke wall similar to the cast of Rowan and Martin's Laugh-In. It was briefly named by Sam in iTake on Dingo.
Recent Debates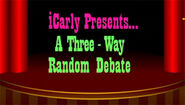 Roller Coasters vs. Spoons
Milk vs. Hammers
Shampoo vs. The Color Orange
Pants vs. Education
Scissors vs. Soup
Medicine vs. Garbage
French People vs. Carpet
Legs vs. Pudding
3 Way Random Debates
The Moon vs. Hats vs. Nuts
Global Warming vs. Cheese vs. Ointment
Cell Phones vs. Barbeque Sauce vs. Ladies
Random Debate with Nevel
A Random Debate with Victorious (this Random Debate does not make sense since there is an iCarly and Victorious crossover spin-off called Sam & Cat and Sam mentions Victorious)
Video Gallery
Photo Gallery
Ad blocker interference detected!
Wikia is a free-to-use site that makes money from advertising. We have a modified experience for viewers using ad blockers

Wikia is not accessible if you've made further modifications. Remove the custom ad blocker rule(s) and the page will load as expected.