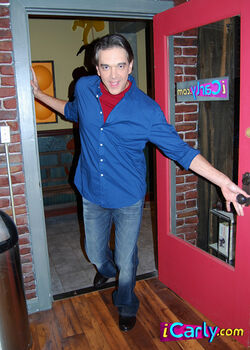 Ricky Flame
was an experienced chef for Food TV who made his appearance in the episode
iCook
. He competed with the
iCarly
gang in a
Food Fight
segment, in which they made
Spaghetti Tacos
. The first judge voted for Ricky, the second for iCarly, and the third for iCarly, handing Ricky Flame a loss. He went through great depression after his loss, since this was his first loss on Food Fight. Eventually, he found a kids' wrestling program. He pointed out that this is a way that he could win all the time, and that the enrollment paper stated it was only recommended for younger kids, so they technically had to let him compete.
Sam
eventually beat him in a fight, and it is unknown what happened after that. He shriveled up in a nervous breakdown/fetal position when he loses. He had a girlfriend named Debbie, and his name is a parody of Bobby Flay. He is shown to be competitive and obsessed with winning.
He was portrayed by actor Al Espinosa.
Ad blocker interference detected!
Wikia is a free-to-use site that makes money from advertising. We have a modified experience for viewers using ad blockers

Wikia is not accessible if you've made further modifications. Remove the custom ad blocker rule(s) and the page will load as expected.