Roger Mole is the name for Gibby's disguise in iParty with Victorious. He felt left out after seeing his pals getting fancy makeup jobs, and since he is often on iCarly, he wanted one too. So Moni, Spencer's ex-girlfriend, gave him sunglasses and a Drake and Josh baseball cap to wear as well as a fake mole to complete the look, thus giving him the name Roger Mole.
Later his mole got lost, and he went searching for it throughout the party. As he was looking for the mole, a boy noticed him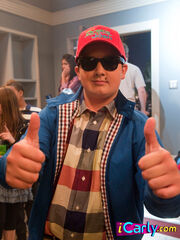 but before he could tell anyone, Gibby knocked him out and dragged him out of the room.
"Finish your rapping!"
This article is a stub. You can help the iCarly Wiki By expanding it.