Ryan Ochoa (born May 17, 1996) is an American teen actor who portrayed Chuck Chambers on iCarly. He is most famous for his role of Lanny on the Disney XD series Pair of Kings.[1] Ryan is the older brother of Raymond and Robert Ochoa. Born in San Diego, California, Ochoa resides currently with his family in Los Angeles.[2]
Career
Ochoa's first professional acting job at the age of 8, when he was cast in a national commercial for Dairy Queen.[2]
Ryan's film debut was in the 2007 film,
Nostalgia
as Ryan Zorn, the son of the main character. He appeared in the 2009 film,
The Perfect Game
as Norberto, one of the 9 baseball players. He also played Tiny T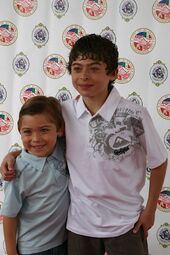 im in 2009's
A Christmas Carol
.
Ochoa played the voice of the character of Rick in the animated film, Astro Boy.
Ochoa has appeared in the television show, iCarly, in the episodes "iHurt Lewbert", "iReunite with Missy", "iTwins","iFind Lewbert's Lost Love", "iBloop", and "iBeat the Heat" as Chuck Chambers.
He is currently appearing as Lanny in the Disney XD series Pair of Kings.
His character, Lanny, from Pair of Kings is similar to Chuck Chambers because they love to joke on people who they hate the most. Lanny pulls jokes on Brady and Boomer while Chuck pulls pranks on Spencer.
He also participated for the Friends for Change Games representing the green team in the first 2 episodes, and the yellow team in the last 2 switching with China Anne McClain.
References
[
Ad blocker interference detected!
Wikia is a free-to-use site that makes money from advertising. We have a modified experience for viewers using ad blockers

Wikia is not accessible if you've made further modifications. Remove the custom ad blocker rule(s) and the page will load as expected.