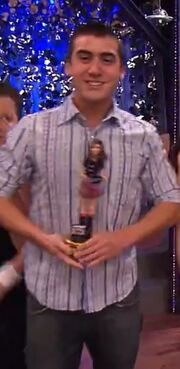 Simon Kendall is the guy from the first ever iCarly episode, iPilot, who could squirt milk out of his eye. He was showcased for this strange talent on iCarly.
He reappeared in the episode iCarly Awards where he received an iCarly Award for Best Video of Milk Squirting from Eye.
"Finish your rapping!"
This article is a stub. You can help the iCarly Wiki By expanding it.
Ad blocker interference detected!
Wikia is a free-to-use site that makes money from advertising. We have a modified experience for viewers using ad blockers

Wikia is not accessible if you've made further modifications. Remove the custom ad blocker rule(s) and the page will load as expected.