Skybucks Coffee has had multiple appearances in many episodes of iCarly. Skybucks Coffee is a spoof/parody of Starbucks coffee. It was seen in IGot Detention.
Another parody of Starbucks is Jet Brew Coffee.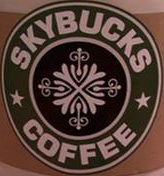 "Finish your rapping!"
This article is a stub. You can help the iCarly Wiki By expanding it.