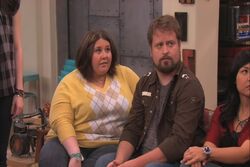 Tancy is one of the women who was a victim of Spencer's garlic powder prank in ninth grade.
She appears only in the episode iGet Pranky. She seems very serious when she finds out that Spencer is pranking again. She also kicked Spencer, along with the other victims, but when Carly came, she ran away.
"Finish your rapping!"
This article is a stub. You can help the iCarly Wiki By expanding it.
Ad blocker interference detected!
Wikia is a free-to-use site that makes money from advertising. We have a modified experience for viewers using ad blockers

Wikia is not accessible if you've made further modifications. Remove the custom ad blocker rule(s) and the page will load as expected.