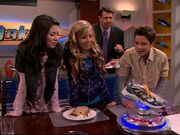 Techfoots
are a faulty type of shoe that is only mentioned in
iPromote Techfoots
and
iSell Penny-Tees
. They are made from the
Daka
shoe company.
Techfoots have built-in Wi-Fi. As a side effect, they wipe out your entire hard drive when you connect them to your computer.
Also, Techfoots have built-in toe warmers, which are very sensitive and can burst into flames easily.
Furthermore, they're not built sturdily and can electrocute the wearer if his or her Techfoot-clad foot comes in contact with water. When thrown away, they are prone to explode.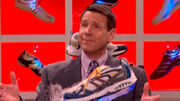 "Finish your rapping!"
This article is a stub. You can help the iCarly Wiki By expanding it.