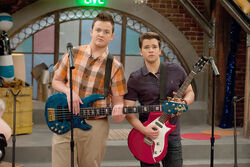 The Floors
(which is also the subplot for
IGet Banned
) is the fictional band
Freddie
and
Gibby
claim to be in, in order to impress two girls.
Sam
gets them a gig at the Groovy Smoothie, but their musical talent is limited. In order to keep themselves from being publicly humiliated, Freddie came up with the plan to start a fake fight right during the gig, breaking up the band before it ever plays. However, Gibby doesn't follow the plan exactly and accidentally knocks Freddie out for real.
Trivia
Both Freddie and Gibby are left-handed, however, they play their guitars right-handed, as seen in the photo.
Under pressure from Sam, Freddie is forced to invent the name "The Floors" for his and Gibby's band. This may be a reference to American rock band "The Doors".
"Finish your rapping!"
This article is a stub. You can help the iCarly Wiki By expanding it.