The Panda is the crazy stalker of Kenan Thompson who appeared in the special episode, iParty with Victorious, where he gate-crashed the party.
He is known for running around in a panda bear suit and swatting unsuspecting people on the butt with a tennis racket. According to Kenan, the Panda has been following him around for three years. The Panda has shown himself to Kenan in various places, such as Kenan's trip to Acapulco. The panda also made an appearance in the Victorious episode, The Breakfast Bunch, while Tori and her friends were leaving the school after they spent all day in detention.
In the intermissions during the special version of iParty with Victorious, it is revealed that T-Bo is the panda in the iCarly canon. In real life, an actor named Erik Betts was in the panda suit.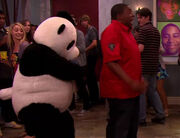 "Finish your rapping!"
This article is a stub. You can help the iCarly Wiki By expanding it.
Ad blocker interference detected!
Wikia is a free-to-use site that makes money from advertising. We have a modified experience for viewers using ad blockers

Wikia is not accessible if you've made further modifications. Remove the custom ad blocker rule(s) and the page will load as expected.