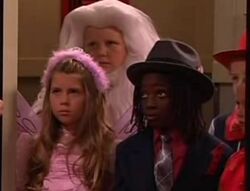 "Finish your rapping!"
This article is a stub. You can help the iCarly Wiki By expanding it.
The Trick-or-Treaters are the kids that arrive at Carly's apartment for trick-or-treating who only appear in iScream On Halloween. Although Spencer keeps telling them he doesn't have candy, they don't listen and torment him. He tries to compensate by giving them whatever he had around the house (such as boiled eggs, wires, batteries), but they wouldn't cooperate. They made a racket and someone made a noise complaint. Lewbert came up and let them in apartment 8-C (Spencer's apartment) when they said they needed to beat up "some dude" and found him in a giant pumpkin. They got as far as throwing him in the streets (while he is wrapped in a Pumpkin right to the ocean). Luckily alive but disgusted, he arrives in the middle of iCarly and says "Never forget to buy candy on Halloween." They were also mentioned in iMeet The First Lady.
Members
Boy dressed as Frankenstein
Boy dressed as Tom Sawyer
Boy dressed as a wizard
Boy dressed as a mobster
Girl dressed as a fairy
Boy dressed as Noah
Girl dressed as a vaudeville actress
Girl dressed as a cowgirl
Girl dressed as a winning wrestler
Girl dressed as a genie
Girl dressed as Tiger Lily
Boy dressed as Al Capone
Girl dressed as a rainbow
Boy dressed as a pirate
Boy dressed as a bartender
Ad blocker interference detected!
Wikia is a free-to-use site that makes money from advertising. We have a modified experience for viewers using ad blockers

Wikia is not accessible if you've made further modifications. Remove the custom ad blocker rule(s) and the page will load as expected.