The Wig Bit appeared in IHate Sam's Boyfriend when Sam and Carly tried to figure out a bit they could do for the next iCarly.
While practicing,
Jonah
was watching them do it and he loved Sam's impression of Carly,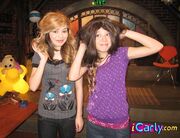 but he of course hated Carly's impression of Sam.
"Finish your rapping!"
This article is a stub. You can help the iCarly Wiki By expanding it.