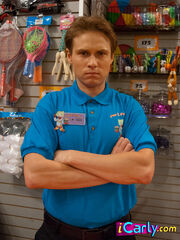 Todd is an employee at Funk E. Fester's. He is very protective over his wall of prizes. One time someone won the giant stuffed bear and he cried for a week. He refused to allow Spencer to collect his prize because his tickets were 15 years old, wouldn't allow him inside without a child and hoped that Spencer would not gain enough points by closing time.
Ad blocker interference detected!
Wikia is a free-to-use site that makes money from advertising. We have a modified experience for viewers using ad blockers

Wikia is not accessible if you've made further modifications. Remove the custom ad blocker rule(s) and the page will load as expected.