Tweenpants.com is a website only mentioned in iCarly. It is first heard of in iSam's Mom when Carly mentions that Freddie got his pants from there. The second time is in the crossover event, iParty With Victorious, when Sam says "when you get all your clothes from tweenpants.com" in her rap battle with Rex from Victorious.
If you try to go to "tweenpants.com", you are re-directed to iCarly.com, which is typical of all fake websites in Dan Schneider's shows.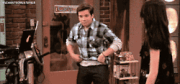 Ad blocker interference detected!
Wikia is a free-to-use site that makes money from advertising. We have a modified experience for viewers using ad blockers

Wikia is not accessible if you've made further modifications. Remove the custom ad blocker rule(s) and the page will load as expected.