Twitter
is a free social networking and micro-blogging service that enables its users to send and read messages known as
tweets
. Tweets are text-based posts of up to 140 characters displayed on the author's profile page and delivered to the author's subscribers who are known as
followers
. Senders can restrict delivery to those in their circle of friends or, by default, allow open access. Users can send and receive tweets via the Twitter website, Short Message Service (SMS) or external applications. While the service, itself, costs nothing to use, accessing it through SMS may incur phone service provider fees.
Official Cast & Crew
iCarly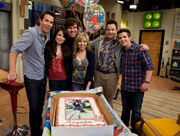 Aria Wallace (AriaSumrWallace)
Use on iCarly
A few Penny T's that the characters wear allude to the creator of the show's username on Twitter, such as "DanWarp Tweets" or "Follow DanWarp". In the episode iSpeed Date, we learn that iCarly has a Twitter account that Spencer follows after Sam tweets about Carly's spitting in the eye of a boy she knows from school (Nate) when she asked him to the Girls' Choice dance. Spencer also learned the reason why Sam had to go to juvie in the episode iWon't Cancel The Show, because the man who Sam attacked, (by stuffing a hot chili dog down his pants) Señor Gutierrez, tweeted about the incident. Freddie questions why Spencer is following a foreign dignatory. In iPsycho, Sam asks Carly how they get the word out that they are at Nora's party, and Carly tells her that they will tweet that they are doing a webcast about the party. Twitter is one of the few real life websites to appear on the show.
Ad blocker interference detected!
Wikia is a free-to-use site that makes money from advertising. We have a modified experience for viewers using ad blockers

Wikia is not accessible if you've made further modifications. Remove the custom ad blocker rule(s) and the page will load as expected.