Tyler is Socko's brother who apparentely makes neckties.
As is typical of Socko's family, his name is a pun on his profession. He has never been seen on screen, but was mentioned in the episode
iPromote Techfoots
when he made Spencer's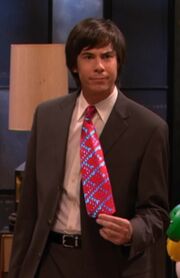 necktie.
His Job is Necktie making.
Spencer: "Hello gentlemen! I am their lawyer.. and this... is my necktie!"
"Finish your rapping!"
This article is a stub. You can help the iCarly Wiki By expanding it.
Ad blocker interference detected!
Wikia is a free-to-use site that makes money from advertising. We have a modified experience for viewers using ad blockers

Wikia is not accessible if you've made further modifications. Remove the custom ad blocker rule(s) and the page will load as expected.