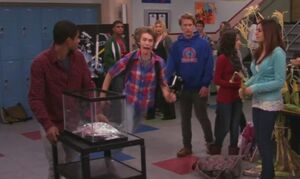 A
Ridgeway
student who was present during the overnight "lock in" in
iOMG
. When
Principal Franklin
announced that the doors to the school had been locked (meaning that nobody could get in or out), this boy began running around the hallway screaming (presumably because he was claustrophobic), much to the surprise of the other students.
This may be the same kid from iOwe You who had Freddie's cables.
He was portrayed by Kyle Goleman.
"Finish your rapping!"
This article is a stub. You can help the iCarly Wiki By expanding it.
Ad blocker interference detected!
Wikia is a free-to-use site that makes money from advertising. We have a modified experience for viewers using ad blockers

Wikia is not accessible if you've made further modifications. Remove the custom ad blocker rule(s) and the page will load as expected.