iOMG
iOMG is the 10th episode of Season 4 and the 80th episode overall. This episode is counted as a special, even though it's a regular length episode.
This episode was watched by 7.355 million viewers, tops among all cable shows for the week. It's currently Nickelodeon's top telecast for kids this year, beating the Kids' Choice Awards, and basic cable's second top kids telecast, only behind Disney Channel's Phineas and Ferb: Across the Second Dimension and its 7.642 million viewers.
This episode completely changes the relationship between Sam and Freddie, as she kisses him unexpectedly,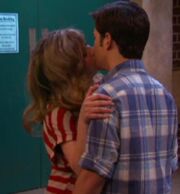 revealing that she's in love with him.
Plot
Carly and her friends work on completing assignments during a "lock-in" overnight at Ridgeway when they notice that Sam has been acting quite strange lately. Freddie uses a Mood Reader app on his PearPad that he, iCarly's new intern, Brad, and Sam made for their project (called Mood Face), which reveals that Sam is in love, but it does not specify who with. Carly and Freddie immediately start to believe that the person she is in love with is Brad, because they still think that she hates Freddie. Then, Carly and Freddie try to hook Sam up with Brad. The attempt fails. Sam confronts Carly, adamant about the fact that she doesn't love Brad. Carly, still convinced that Sam is fallen for Brad, tells her that she needs to make a move if she wants a nice boyfriend, and that she just wants her to be happy.
Freddie finds Sam sitting alone outside, and they then have a very serious conversation about love. At first, Sam sends Freddie away, but he doesn't agree to leave, even though he accuses her of hating him. After she claims "I never said I hate you". Freddie nearly finishes his speech about taking a risk with love, Sam cuts him off by unexpectedly kissing Freddie on the lips for 11.3 seconds. Embarrassed, she apologizes for it, to which Freddie can only reply with: "S' cool." As the previously mentioned actions take place, Carly observes them through a nearby window, with a shocked expression on her face. This episode then ends with a cliffhanger, and was resumed on the episode after iParty with Victorious, which is iLost My Mind.
Ad blocker interference detected!
Wikia is a free-to-use site that makes money from advertising. We have a modified experience for viewers using ad blockers

Wikia is not accessible if you've made further modifications. Remove the custom ad blocker rule(s) and the page will load as expected.