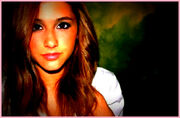 People always wonder, who is better, Selena Gomez or Miley Cyrus? Well, honestly, I don't care about Miley or Selena or anyone on the Disney channel. Why? Because they have no talent, that's why. Instead, I thought of the most talent stars on Nick:
Jennette McCurdy
and Ariana Grande. I think both of the girls are beautifal and amazing singers, actors, dancers, and just amazing people. I will tell you why:
Jennette:
-Talented country singer (most country sucks)
-Great tap dancer (iWas a Pageant Girl)
-Good actress in her movies and in iCarly
-Her songs are so down-to-earth!
-She seems like an amazing person
-She's so pretty!
Ariana:
-Great acapella singerthumb|300px|right|Ariana's beautiful acapella cover of California Gurls and Tik Tok ;)thumb|300px|right|Jennette's humble country song and good singer in 13
-So funny in Victorious!
-(I think she's prettier than Jennette :P)
-She seems really nice
-She's artistic and i like that ;)
Tell me what you think! :D
Ad blocker interference detected!
Wikia is a free-to-use site that makes money from advertising. We have a modified experience for viewers using ad blockers

Wikia is not accessible if you've made further modifications. Remove the custom ad blocker rule(s) and the page will load as expected.