Hello everybody, I know that all of us are waiting for Season 6 of ICarly... and i think this will be the best season of all...
First, 4 episodes have been filmed until now, but they are filming a new one with Reed Alexander. Also, iCarly would get to 110 episodes with this season because Jennette McCurdy said in her youtube account that this season was going to have 14 episodes if season 5 includes all the 13 episodes that were ordered. Also, I think season 5 will have the 13 episodes because maybe the last two episodes will be an hour-long special in which the gang creates a web feed that ends up shutting off their webshow ( according to iTunes ) .
Ok, but what are we going to expect for season 6 of iCarly...
First of all, we have the visit of One Direction to iCarly in the first episodes of this season, in which they are going to perform their song What Makes You Beautiful. And what about Harry and Carly??? Are they hoing to kiss??? I think they will, but I'm not so sure of it.
Second, the episode 502 in which we only know we could see Ridgeway's cafeteria ( and tahat would be awesome). Also we know there will be a boy named Billy Bootz, who will be a Guest Star in this episode, and he also is a delinquent, a criminal... but... what does he have to do with the iCarly gang in the cafeteria????
503: MEMORIES!!! In this episode we'll see memories of iCarly members of season 1... T-Bo will appear as a genie... And Mindy Sterling will return as Mrs. Briggs... But, why do we look boxes around Shay's loft??? Are they going to move??? I don't think so because in the next episode we see pictures of them in their loft...
504: This episode will probably be a Seddie episode... Finally, Sam and Freddie will have to work together again!!! As they did when they were a couple... but now as job teammates... And what about the scene filmed in Griffith Park??? Are Sam and Freddie going to be back in this episode??? Will they fight more than ever??? And what about the sculpture of a snowman???
505: NEVEL IS BACK!!!! Nevel will appear in this episode again... but... why??? He promised to don't try to shut down iCarly any more but... did he lie??? Is he still hated by everyone??? Will he plan another attack to iCarly and that's why Freddie dresses up as another iCarly member so they can cheat on him???
Finally, the most important thing about this seasonis the following question... Are we finally going to know if Carly and Freddie will end together... or Sam and Freddie will end together??? Difficult decision to Dan Schneider but... what do you think???
THANK YOU FOR READING THIS... AND ALSO FOR YOUR COMMENTS!!!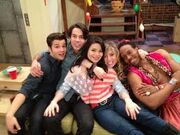 Ad blocker interference detected!
Wikia is a free-to-use site that makes money from advertising. We have a modified experience for viewers using ad blockers

Wikia is not accessible if you've made further modifications. Remove the custom ad blocker rule(s) and the page will load as expected.