HAPPY BIRTHDAY FUDGE! XD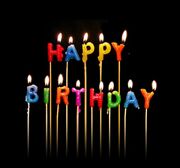 THE WAIT IS OVER. IT'S FINALLY SEPTEMBER 6!
WHICH MEANS, IT'S YOUR BIRTHDAY!!!!!!!!
WOOHOOO !
YEAH, BE HAPPY!
BE OVERJOYED!
HAVE FUN
I HOPE YOU ENJOY YOUR DAY!
HAVE A BLAST!
DON'T EAT CAKES. CAUSE THEY'RE UNHEALTHY.
BLOW A CANDLE.
MAKE A WISH
EAT A SALAD
YES. A SALAD
HERE'S A LITTLIE POEM :
Smiles and laughter, joy and cheer New happiness that stays throughout the year Hope your birthday brings all these and more Filling life with surprise and joys galore!
AND ANOTHER ONE :
Roses are red violets are blue This poem is your present So whoo hoo!
HAPPY BIRTHDAY!
AND REMEMBER, I'M REASONABLE!