Ello guys! So we all know that little thing called EDITING. And while making your own blog I think all or most of you edit in Visual mode.
And though it may look a LITTLE advanced editing in Source mode is actually not that hard and still you can do way more.
Examples
You can write in colour.
Or you can write way bigger.

Or both.

And you can even add a font. If you have "Evanescent", the Evanescence font, installed on your computer (downloadable here if you wanna check http://www.dafont.com/evanescence.font ) then you will see this in Evanescent.

Okay, now HOW do you do that?
I'll explain. Open the page/blog to edit, and go to visual mode.
How to change the font size
Now for a different font size, FIRST OF ALL CHANGE TO SOURCE MODE. Then type:
<font size=4> TEXT HERE </font> for font size four. Here you have the different sizes:
Font size 1.

Font size 2.

Font size 3.

Font size 4.

Font size 5.

Font size 6. Without cutting the text, this is the biggest font size you can get.
How to change the font color
Yes, you can also change the colour as demonstrated in my example.
How? Well, as well as earlier with the font size you have to change to source mode first. Then you type:
<font color=COLORNAME> TEXT HERE </font>

Example for a colour? >font color=red> TEXT HERE </font> after writing </font> everything afterwards will change to the usual black.

Here you have an example:
It's RED. AND NOW BLACK AGAIN.

So, now you probably wanna know what colour you can use, right? For that, just look at this pic for all colours available, the names are included.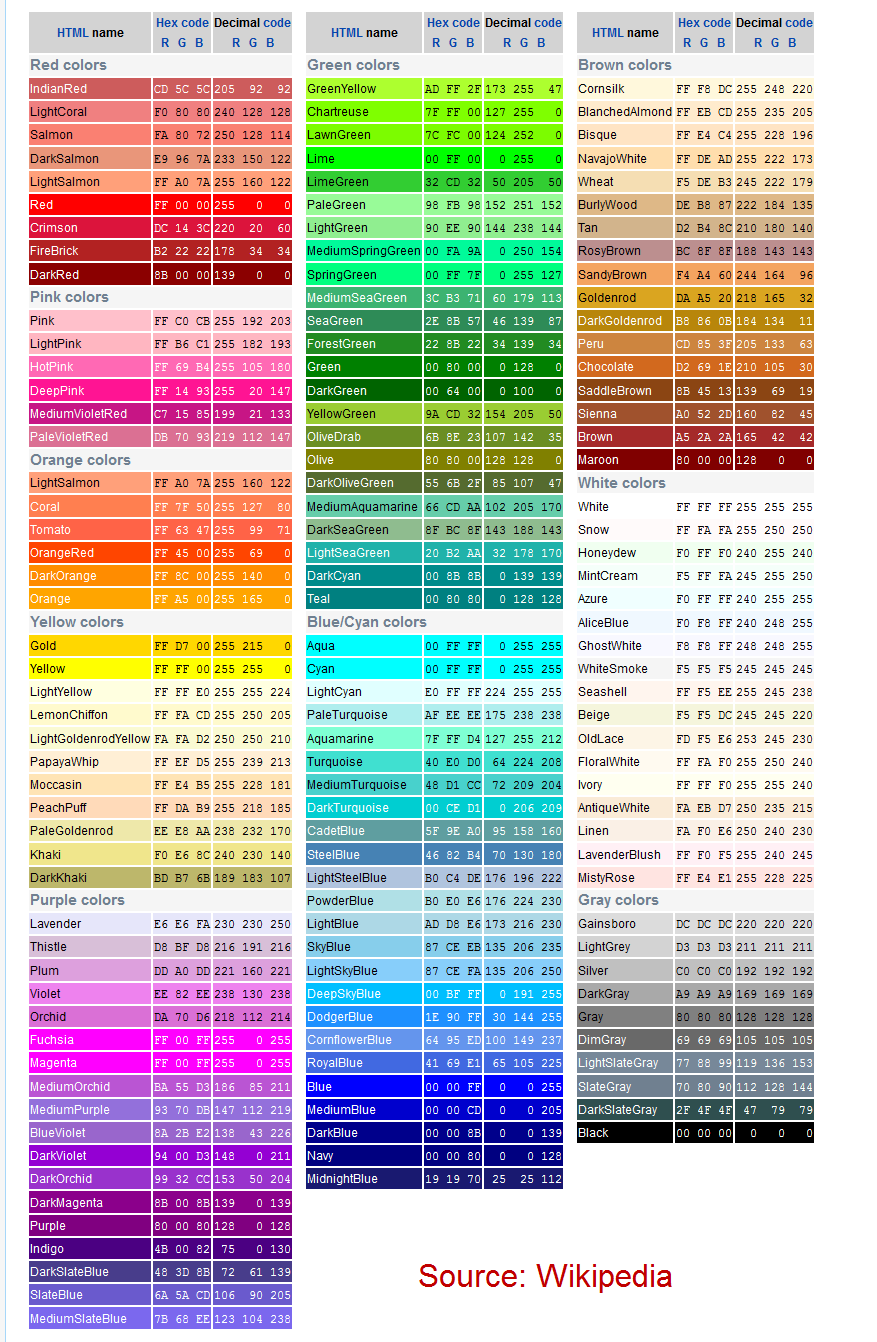 These are all colours available.
It's actually pretty easy, isn't it? And you can do it in comments too
For the end, something VERY basic, but some people may still not know.
You can write in italic and in bold in the comments section too.
How? Easy:
'''THIS IS FOR BOLT. TYPE YOUR TEXT HERE.'''
Will make:

THIS IS FOR BOLT. TYPE YOUR TEXT HERE.

And
''THIS IS FOR ITALIC. TYPE YOUR TEXT HERE.''
Will make:
THIS IS FOR ITALIC. TYPE YOUR TEXT HERE.

That's basically it. You can show me your plays with it in the comment section if you wanna! :D
Ad blocker interference detected!
Wikia is a free-to-use site that makes money from advertising. We have a modified experience for viewers using ad blockers

Wikia is not accessible if you've made further modifications. Remove the custom ad blocker rule(s) and the page will load as expected.