Ad blocker interference detected!
Wikia is a free-to-use site that makes money from advertising. We have a modified experience for viewers using ad blockers

Wikia is not accessible if you've made further modifications. Remove the custom ad blocker rule(s) and the page will load as expected.
Okay so the Kids Choice Awards are coming April 2nd and I 've been noticing that this year iCarly has some strong competitors for Favorite TV Show. Now to prevent other TV shows from winning I've been voting and doing my best at making sure iCarly wins for the third time in a row. I'd be happy if Big Time Rush won too but most would agree that I believe iCarly is the best show on this planet. Anyway PLEASE PLEASE PL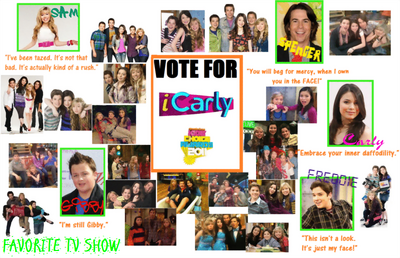 EASE PLEASE V
thumb|300px|right|A video from the iCarly website itself
OTE!!!!!