Hello Everyone :)
You probally all know it, nick isnt airing any new episode of iCarly until august :(
So i decided to do a iCarly Marathon live!
The marathon will run from the verry first episode all the way till the awesome iParty with victorious crossover :p
Now, for the one's who want a little sneak peak at the site where you can watch the marathon, look below! :p
During the episode's there will be short breaks from around 2-3 minutes, during these breaks i will either play a song, play a little video, OR a user-made promo!
Yes, i will show user-made promo's for iCarly, the only thing you need to do is:
Make a promo for iLost My Mind from around 2-3 Mins.
You can use ANYTHING, keep it basic and use shots from icarly or go nuts and make it like a movie trailer, its all up to you.
When you're promo is done, upload it to youtube and either tweet me the link at @bjornholemans OR send me the youtube link through holemans.bjorn@gmail.com
I will then choose a few and air them during the breaks!
Good Luck and here is the Sneak peak of the website!
See ya!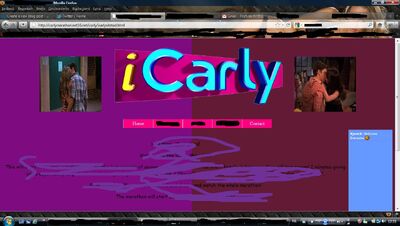 Ad blocker interference detected!
Wikia is a free-to-use site that makes money from advertising. We have a modified experience for viewers using ad blockers

Wikia is not accessible if you've made further modifications. Remove the custom ad blocker rule(s) and the page will load as expected.