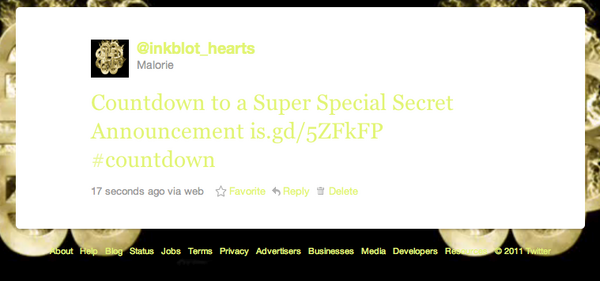 Screecapped straight from my Twitter, since not everyone follows me, and not everyone has Twitter.
Here's the website link: http://www.7is7.com/otto/countdown.html?year=2011&month=11&date=25&hrs=15&ts=12&tz=local&min=30&sec=0&lang=en&show=MWdhms&mode=t&cdir=down&bgcolor=%2300FFFF&fgcolor=%23FF00FF&title=Countdown%20to%20a%20Super%20Special%20Secret%20Announcement
I promise you, everyone will like this announcement. :)
Ad blocker interference detected!
Wikia is a free-to-use site that makes money from advertising. We have a modified experience for viewers using ad blockers

Wikia is not accessible if you've made further modifications. Remove the custom ad blocker rule(s) and the page will load as expected.