Comments

6
iCarly Wiki Tutorial - How to Post GIFs
Probably the most frequently asked question on here is, "How do you post a gif in a comment?"
There have been many tutorials on how to do that, but they haven't been particularly detailed. So here's how to post a gif.
First, you need the gif you want to post. If it's not on here already, you need to upload it. Go to any random page, and look on the right side. Find this: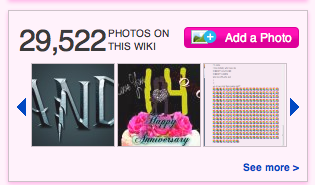 It's under the box that says "Recent Activity". Upload the gif there, and keep track of it, once you upload it. You automatically follow every image you upload so you can find it in the list of pages you follow.
If the gif is already uploaded on here, you just need to find it again.
Highlight the file name (the title of the gif) and copy it (for PC it's control + C, for Mac it's command + C).
In your comment, type this--> [[File:
Paste in the file name (for PC it's control + V, for Mac it's command + V)
Then type this--> ]]
It should look like this when you type it--> [[File:insertfilename.gif]]
And it should look like this when you submit your comment (I just used a random gif):