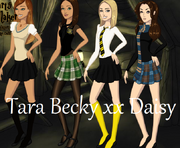 Dis story iz based on da caracterz made byz SC.
I am in slytherrrin cuz it iz da best.
Shaniqua (Me): Omg guyz mi feeloww slytherinnz wats up yoozz
Churchpants: ooh noddin much i luv ur outfit shaniqua ur alwayz da prettiestz.
Shaniqua: Oh, i noz.
Becky: omgzz y do ravenclawz always tink dey r so smart WE SMARTERR.
Churchpants: omg ya
Shaniqua: ikrr
Mak comes in. He has long hair that is lucious like a girls and he flips it.
Mak: whatzz uppp
Shaniqua: we talkin bout how much we hat oder housesz
Churchpants: yuh but i hav a problem
becky: wha
Churchpants: i tink i have a crush on jon from ravenclaw
becky: o no dat is horrible
churchpants: I know
Shaniqua: we mus do somtin!
Mak: I'm going to leave you girls alone
He walks into his room to brush his lucious hair
Becky: RAVENCLAWS R USING DERE EVIL PWOERS AGINST US SLYTHERINSS WE IS MIGHTIER
Shaniqua: yuh
Churchpants: we hav 2 make me not luv him
Alica: Oh it okay *she comes out from under da couch where she was sleepin* I tink Yoshi fom Grifdor iz hot but he haz a gf named Fishy and dey belong together
Shaniqua: wat is wrong wit da worldd
TO BE CONTINUED...
Ad blocker interference detected!
Wikia is a free-to-use site that makes money from advertising. We have a modified experience for viewers using ad blockers

Wikia is not accessible if you've made further modifications. Remove the custom ad blocker rule(s) and the page will load as expected.