Comments

8
Creddiers: Thoughts on iLLM and iSeddie??
So..... what's up people? This new blog is mainly directed for the Creddie audience, but Seddiers can come too.(Just remember, if you don't like other Creddie Shippers' comments, don't respond).
This blog is basically for Creddiers to let out their thoughts about iLLM and the whole idea of Seddie probably happening this whole Season. Don't give up Creddiers! There have been some very encouraging and understanding Seddiers. And don't worry, iCarly ain't ova!
Creddie!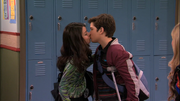 TALK/DISCUSS/TYPE