Comments

7
Jim Parsons to guest star on 'iCarly' -- EXCLUSIVE
Ad blocker interference detected!
Wikia is a free-to-use site that makes money from advertising. We have a modified experience for viewers using ad blockers

Wikia is not accessible if you've made further modifications. Remove the custom ad blocker rule(s) and the page will load as expected.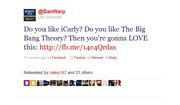 Confirmed by Dan here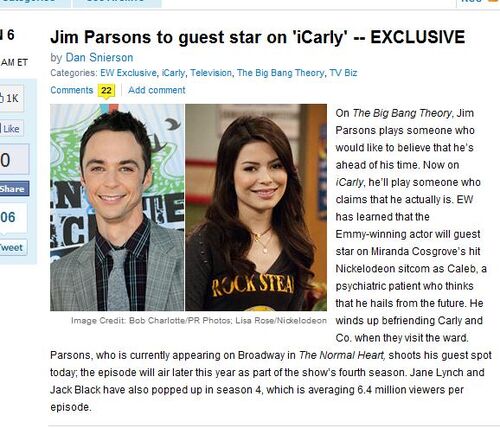 On The Big Bang Theory, Jim Parsons plays someone who would like to believe that he's ahead of his time. Now on iCarly, he'll play someone who claims that he actually is. EW has learned that the Emmy-winning actor will guest star on Miranda Cosgrove's hit Nickelodeon sitcom as Caleb, a psychiatric patient who thinks that he hails from the future. He winds up befriending Carly and Co. when they visit the ward. Parsons, who is currently appearing on Broadway in The Normal Heart, shoots his guest spot today; the episode will air later this year as part of the show's fourth season. Jane Lynch and Jack Black have also popped up in season 4, which is averaging 6.4 million viewers per episode.
My Speculation
Caleb, a psychiatric patient who thinks that he hails from the future will not be the character that is cuckoo for the Sam and Freddie relationship in iLost My Mind
Somehow the iCarly trio gets trapped in the mental hospital