http://m.ocregister.com/entertainment/says-304079-mccurdy-icarly.html?
t's run-through day on the "iCarly" sound stage and the cast members of Nickelodeon's hit series are moving methodically from one scene to the next as they rehearse an episode – Carly falls for a super-smart cute boy, Freddie persuades his mom to rent a room to a friend, Spencer tries to crack a safe – that they'll shoot over the next few days.
Everything runs smoothly as a small group of spectators shuffles after the cast as everyone travels from one colorful set to the next, from Groovy Smoothie to Carly's apartment to a movie theater and Freddie's very tidy home.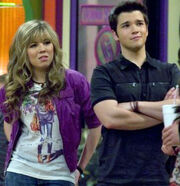 Side Note: Cute outfit Sam (if that's a show costume) has on. Possible Double date with Carly and her new BF? Sam Possibly dressing different because of Freddie her maybe boyfriend.
Ad blocker interference detected!
Wikia is a free-to-use site that makes money from advertising. We have a modified experience for viewers using ad blockers

Wikia is not accessible if you've made further modifications. Remove the custom ad blocker rule(s) and the page will load as expected.