So, as tweeted by Dan and some of the cast we know they're filming season 6 today. Adding their tweets to this blog and a bit more info you may not know.
Tweets from Dan and The Cast
Jerry has not tweeted yet about the new season, but he rarely tweets.

Info You May Not Have Known
Not, the most reliable sources for the following info, but I do have sources.

Darthleroy is an actor. Check out his profile. He was the one, who right about ILost My Mind being an episode when some of us thought it was fake. Anyway, he claims that #501, most likely the first episode of what we're calling Season 6 is "iGot Jungle Worms."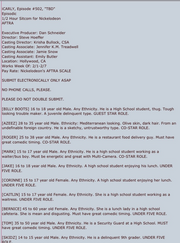 The photo in this blog is a casting call for #502 which is still untitled. It calls for extras in a cafeteria scene, so I'm guessing the Ridgeway cafeteria will be seen.
References
Ad blocker interference detected!
Wikia is a free-to-use site that makes money from advertising. We have a modified experience for viewers using ad blockers

Wikia is not accessible if you've made further modifications. Remove the custom ad blocker rule(s) and the page will load as expected.