In a tweet from Dan on the 22nd that I just noticed.

He tweeted, "Okay okay! Before I go to dinner, here's ONE pic I took of the @iCarly sets in progress - LOOK: http://pic.twitter.com/6zixMImF "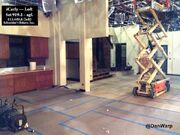 And the ratings for IToe Fat Cakes are in. Also send you condolences for @MightySeddieWarrior's (Olivia aka Olive)'s family if you wish. http://icarly.wikia.com/wiki/User_blog:MightySeddieWarrior/A_Tribute_to_MightySeddieWarrior
Ad blocker interference detected!
Wikia is a free-to-use site that makes money from advertising. We have a modified experience for viewers using ad blockers

Wikia is not accessible if you've made further modifications. Remove the custom ad blocker rule(s) and the page will load as expected.