For those of you wondering who probably didn't see my comment on the Jathan page http://www.zimbio.com/pictures/CEJqxDRYgCi/Nickelodeon+iParty+Victorious+Premiere+Orange/wyIe_AOCIoN/Nathan+Kress Actress Lexi Ainsworth who was in iLike Jake http://www.imdb.com/title/tt0994707/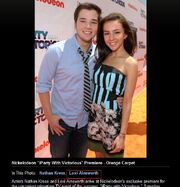 Ad blocker interference detected!
Wikia is a free-to-use site that makes money from advertising. We have a modified experience for viewers using ad blockers

Wikia is not accessible if you've made further modifications. Remove the custom ad blocker rule(s) and the page will load as expected.