Note: So this is just a blog to show admins how I think the IMeet The First Lady page can be edited and look a lot more professional than it is now. Eric, Mak, Alica Sophie and Tencents Sorry dimey. Get it? LOL Feel Free to copy the info after this note. The reason I didn't write this on a talkpage is it would just too complicated and long for it.

iMeet the First Lady is the 21st episode of Season 4 and the 91st episode overall. Michelle Obama will make a guest appearance. The first lady is set to appear on an upcoming episode of the comedy iCarly to promote Joining Forces, an initiative aimed at increasing awareness and support for Military families, [2].
Background
Show creator and executive producer
Dan Schneider
wrote the episode just for Obama and her Joining Forces initiative.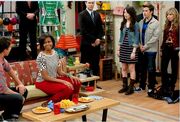 "When she approached us, after he was done jumping for joy, Dan sat down and came up with a very, very clever idea," Zarghami said. The network president said she wasn't concerned that featuring the first lady and promoting the Joining Forces program would make a political statement for the show or Nickelodeon. "It's a feel-good initiative," she said, "and regardless of your political affinity, everybody cares about these families, so it just feels right."
[3]
Plot
Carly and Spencer are the children of an Air Force colonel serving overseas in the military. Their father is not able to make it home for his birthday as planned. Thus, Sam and Freddie break some rules to set up a web chat so Carly can speak to her dad on his birthday. Mrs. Obama, who hears about the Freddie and Sam's efforts to connect Carly with her dad, then comes to talk to them about the importance of connecting soldiers with their families. [4]
Trivia

The working title for this episode was "iMajor Guest Star"
This is the first appearance by the U.S. First Lady, Michelle Obama on a Nickelodeon show, despite appearing for Nickelodeon's Worldwide Day of Play, an event, which encourages to get out, get active and play instead of being in front of a computer or TV Screen.
Taran Killam who played "Spaulding" in Moody's Point (The Amanda Show) is a Secret Serviceman in this episode [5]
Despite the production being 406. There are more episodes of iCarly set to air before this one.
Photo Gallery
See photos for this episode here
Video Gallery
References
Ad blocker interference detected!
Wikia is a free-to-use site that makes money from advertising. We have a modified experience for viewers using ad blockers

Wikia is not accessible if you've made further modifications. Remove the custom ad blocker rule(s) and the page will load as expected.