3rd place:
"I DID NOT SIGN UP FOR THIS!" - SCherry08
2nd Place:
"I'm not in pain, I'm really- OW... enjoying this. OW!!!" - Jon23812
And the #1 spot is:
"GET ME OUT OF HERE!!!! I NEED TO WATCH EPISODE 37 OF FULL HOUSE!!!!! I NEVER SAW IT BEFORE!!!" - ObsessiveSeddieDisorder
Congrats, you three :)
If I put the wrong names or forgot something, please say so.
The pic for this time: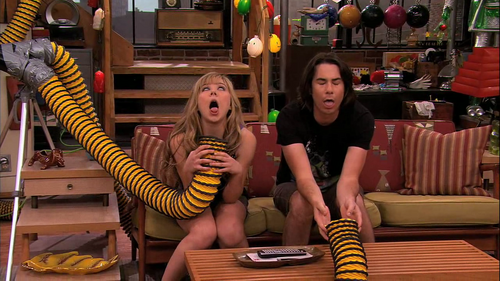 I know it's not a very good pic, but I'm sure you guys can think off something clever ;)
Leave your ideas in the comments BELOW and you'll see the results in the next blog :)
Ad blocker interference detected!
Wikia is a free-to-use site that makes money from advertising. We have a modified experience for viewers using ad blockers

Wikia is not accessible if you've made further modifications. Remove the custom ad blocker rule(s) and the page will load as expected.