Ad blocker interference detected!
Wikia is a free-to-use site that makes money from advertising. We have a modified experience for viewers using ad blockers

Wikia is not accessible if you've made further modifications. Remove the custom ad blocker rule(s) and the page will load as expected.
3rd place:
"I DID NOT SIGN UP FOR THIS!" - SCherry08
2nd Place:
"I'm not in pain, I'm really- OW... enjoying this. OW!!!" - Jon23812
And the #1 spot is:
"GET ME OUT OF HERE!!!! I NEED TO WATCH EPISODE 37 OF FULL HOUSE!!!!! I NEVER SAW IT BEFORE!!!" - ObsessiveSeddieDisorder
Congrats, you three :)
If I put the wrong names or forgot something, please say so.
The pic for this time: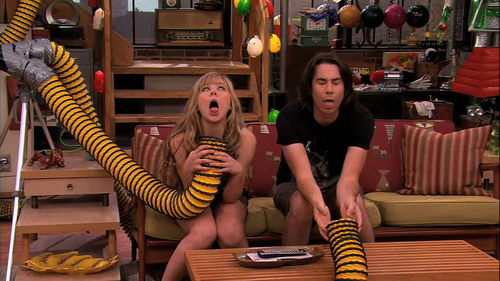 I know it's not a very good pic, but I'm sure you guys can think off something clever ;)
Leave your ideas in the comments BELOW and you'll see the results in the next blog :)