Okay, since everyone has apparently been waiting for this... here ya go, a new caption contest. I'm so sorry for the lack of any lately.
3nd Place:
Carly: "Why am I standing next to a midget..."
Mitch: "Looking good for the camera ;)" - PurpleStripedFudgeParole239
2nd place:
Mitch: "Everyone thinks that being short must be terrible. But I have a greeeeaaaat view when I move my head to the left a little. Well, this girl is not really gifted when it comes to her... Let's find Sam." - PurpleJerk
1st place:
Mitch: "I am so gangsta. Oh yeah. SHANK!"
Carly: "...I'm starting to wonder what's really in this backpack...." - CreddieCupcake
Congrats, Cupcake :)
Anyhoar, here is the one for this time: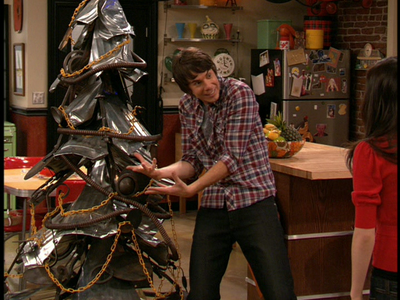 I hope everyone has had a fun Christmas and... NOW GO POST A COMMENT! FAST! Because Friday or Saturday will already be the next and last Caption Contest of 2011!
Ad blocker interference detected!
Wikia is a free-to-use site that makes money from advertising. We have a modified experience for viewers using ad blockers

Wikia is not accessible if you've made further modifications. Remove the custom ad blocker rule(s) and the page will load as expected.