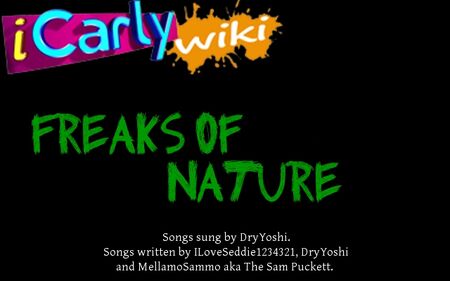 You may be asking yourself, "What in tarnation is the title all about?". (unless you come on chat often enough)
Well, I will tell you.
Back in April, Jess (iLoveSeddie1234321) wrote a parody on Katy Perry's Last Friday Night. I decided to actually MAKE that parody into a song. This was meant to be a one time thing, but two more songs followed, and one more song written by TSP. The other two songs are just some stupid ideas of mine.
So now that there seem to be no more parodies in the making, I've decided to release the full "album" of parodies for you all download onto your fancy iPods/MP3s/Androids. Or just your laptop. Scroll down for the download link.
01. Last Wiki Night (Katy Perry's 'Last Friday Night' parody, about all the users on chat)
02. Wiki (Rebecca Black's 'Friday' parody, about the wiki and chat itself)
03. Sexy and Ya Know It (LMFAO's 'Sexy and I Know It' parody, about how sexy we all are)
04. Never Gonna Give This Wiki Up (Not a parody, just me singing Rickroll. But I think it fits rather well)
05. iCarly Chat (Adventure Time Theme parody)
06. Boyfriend (Justin Bieber's Boyfriend parody, about Freddie who can't choose between Carly and Sam)
DOWNLOAD BY CLICKING HERE.
(You will need Winrar or something similar to open the RAR file)
Ad blocker interference detected!
Wikia is a free-to-use site that makes money from advertising. We have a modified experience for viewers using ad blockers

Wikia is not accessible if you've made further modifications. Remove the custom ad blocker rule(s) and the page will load as expected.